In this space I am going to try my best to send out short messages and hear back from you too. I will report on winery activities, some of the journeys we take and every now and then a little commentary will show up. I believe very strongly in producing good wine that can be enjoyed without pretention by everyone. I bought some of my first wine making equipment at a shop in Berkeley called Wine and The People. A very Berkeley name but I think it sums up my idea that wine belongs to all of us. Stay tuned and let me know what you are thinking.

Sitting inside watching the "we need it" rain come down and prepare the soil for early spring growth. The buds of some grape varieties have already started growing and most of the fruit trees have blossomed. We are once again at the beginning of a season and anticipation is high. As soon as I write that it sounds redundant, seems I am always looking with hopeful expectation. We are pruning, we are harvesting, we are blending, we are bottling and we are meeting people. The list goes on. In this season of rebirth it is, perhaps, easier to get excited but reasons are always there. Pay attention to the things around you (they are wonderful) and welcome the future.

It is not quite March and time to prune our vines. For a variety of vine health related reasons grapevines are usually pruned shortly before the season starts. So I guess the season is about to start and it is time to get going on the 2012 vintage.
Pruning is the first big step in determining the quality of the fruit will harvest. It is always a time of hope and optimism. Nothing has really gone wrong and the future looks bright. That feeling lasts for a month or so and then you remember that a lot can go wrong. So, I guess we will see what happens. I think we know that things will not go exactly as planned and our course may have to change but we will be smiling and still optimistic at harvest. That is just the way it is going to be. Guarantee.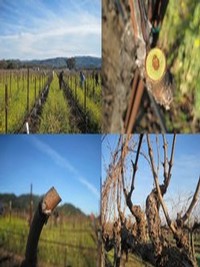 Recent Posts
March 12, 2013

February 5, 2013

December 19, 2012

August 1, 2012

June 7, 2012

March 28, 2012

March 6, 2012

January 7, 2012

December 24, 2011

December 6, 2011
Blog Categories
Blog Archives
Our Writers