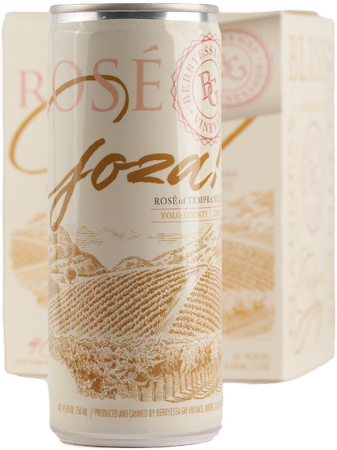 2019 Goza! Rosé of Tempranillo Cans
Gozar! Collection
GOLD - 2020 Sunset International
TASTING NOTES
With subtle hints of peach and grapefruit, this light and refreshing rosé is perfect for a hot day. Easy to drink, with hints of honeysuckle and raspberries. This wine can be enjoyed by itself or with a fruit salad.
PRODUCTION NOTES
Our 2019 Rosé of Tempranillo was made using Saignée juice from our Tempranillo grapes. The fruit was sorted using our optical sorter, then bled immediately from the must that would later make our red wines. This limited skin contact results in the wine's light pink color, clean flavors and low tannins. The juice was then cold-settled for three days, and made in a natural style with no added sulfites. The fermentation occurred in both neutral French oak and stainless-steel barrels, proceeded slowly, and was kept at cool temperatures throughout. After fermentation, the wine was aged in neutral French oak and stainless steel for 7 months before being canned in April 2020.
** This item contains (4) four 250ml cans.