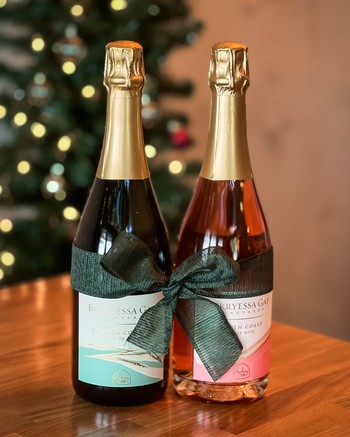 Toast the season with Berryessa Gap Vineyard's Holiday Bubbles Duo, a festive pairing that brings sparkle to your celebrations. This exclusive offering features two exquisite sparkling wines: the vibrant Brut Rosé and the elegant Blanc de Blanc.
The Brut Rosé captivates with its lively effervescence and a delightful pink hue. Delicate notes of red berries dance on the palate, creating a refreshing and festive experience that complements the joyous spirit of the holiday season.
And, the Blanc de Blanc offers a refined and crisp profile. This sparkling white wine is characterized by its pale golden color and a symphony of citrus and floral aromas. The palate is treated to flavors of green apple and pear, culminating in a clean and invigorating finish.
Together, the Brut Rosé and Blanc de Blanc form a dynamic duo that adds a touch of sophistication to any holiday gathering. Whether you're toasting to the New Year or raising a glass in celebration, Berryessa Gap Vineyard's Holiday Bubbles Duo is the perfect choice for making your festivities truly special. Cheers to a sparkling holiday season!
Special Discount from $84 + Add Your Club Discount!