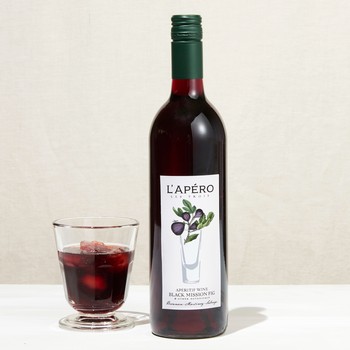 Black Mission Fig Aperitif
TASTING NOTES
Full-bodied, mysterious, and exotic, the ingredients combine to produce aromas of damp forest floor, wet earth, dried herbs, and dark fruit. Round, rich and hearty with fruit flavors of pomegranate and Morello cherries complimented by an expressive floral bouquet of red and purple flowers. Hints of a spice market. The lemon presents bright notes and upholds the acid balance that stands up to the complex finish of desiccated dark fruits and freshly tilled soil. The fruit-forward wine base for this aperitif is Berryessa Gap Vineyards' Estate Zinfandel.
FRUITS & BOTANICALS

Fresh and Dried Mission Figs, historic California fruit brought to the region in the 1700s by Spanish Missionaries
Fresh Fig leaves
Fresh Thyme
Meyer Lemons, a California specialty with an intense aroma and thin skin
FORTIFIER
Eau-de-Vie neutral brandy distilled from Berryessa Gap rosé
SERVING SUGGESTIONS
Serve chilled, on its own or with ice. Or, to 3-ounces of apéritif, add1-ounce of sparkling water or a splash of Brut Rosé. Garnish with a sprig of fresh thyme. Want to get fancy? Add a dash of bitters.
FOOD PAIRING SUGGESTIONS
Black Olive Tapenade, Mixed Nuts, Goat Cheese, Blue Cheese, Parmesan, Prosciutto, Charcuterie, Wild Boar Pate, Grilled Lamb, Grilled Sardines, Mixed Green Salad with Blue cheese, and Almonds, Gougères cheese puff pastries.