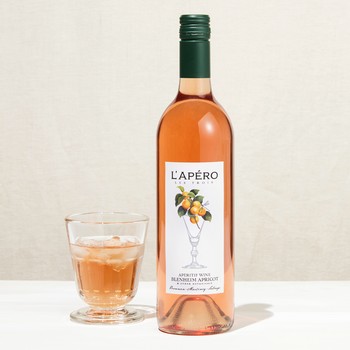 Blenheim Apricot Aperitif
TASTING NOTES
Reminiscent of a summer day, ripe apricot flavors with a slight minerality give way to lots of perfume and nuanced white and rose floral notes. Bright aromas from the fruits are complemented by subtle sweetness and a rich nuttiness from the almond. Fruit forward with intense aromas, light to medium bodied with good acidity. Berryessa Gap Vineyards Rosé presents a light body and pale shade that serve as a perfect base for this delicate apéritif, featuring an heirloom stone fruit, the Blenheim Apricot.
FRUITS & BOTANICALS
Blenheim Apricots, an historic California variety, which originated at Blenheim Palace in England is said to the sweetest of all apricots. The smallish fruit ripens from the inside out, so has some color variation on each piece of fruit that adds to the complexity of flavors combining sweet and tart. Green, or immature apricots and fully ripe ones were both used. For decades, Winters was the production center of apricots, particularly the Blenheim.
Green Almonds, which were harvested immature, or green. These are a specialty in the Mediterranean and Middle Eastern regions, and have a delicate, sweet almond flavor. Today, Winters is a major production area for almonds.
Meyer Lemons, a California specialty with an intense aroma and thin skin
FORTIFIER
Eau-de-Vie neutral brandy distilled from Berryessa Gap rosé
SERVING SUGGESTIONS
Serve chilled, on its own or with ice. To 3-ounces of aperitif, add a splash of Brut Rosé Sparkling wine, or soda water. Garnish with lemon zest. Want to get fancy? Add a dash of bitters.
FOOD PAIRING SUGGESTIONS
Black Olive Tapenade, Mixed Nuts, Goat cheese, Manchego Cheese, Charcuterie, Couscous Salad with Dried Fruits, Poached Salmon, Chocolate Chip Cookies, Coffee ice cream, Almond Tuile Cookies.