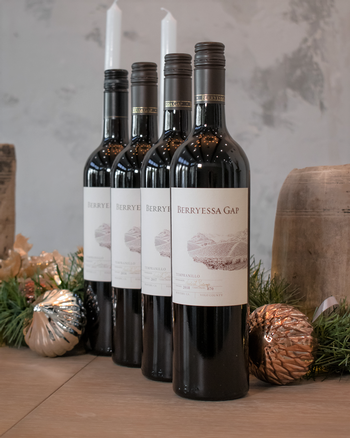 Four award-winning vintages of Tempranillo!
TASTING NOTES
2014 Tempranillo
This wine draws you in with an abundance of delightful aromas - bursts of cherry, plum and hints of leather and vanilla. With a medium body and dry tannins that highlights the 2014 vintage and age-worthiness of this young Tempranillo, this wine will pair beautifully with your favorite Italian or Hispanic dishes. The silky and velvety finish delivers a highlight of oak and vanilla.
2015 Tempranillo
This Spanish red variety has enticing aromas of ripe berries with hints of clay and tobacco. On the palate, the wine starts with a zippy acidity then develops into layers of dark fruit flavors of black cherry and mulberry and finishes with firm, fine-grain tannins accentuated by notes of cinnamon and caramel. This medium-bodied wine is rich and savory with nice acidity and can be paired with myriad dishes, particularly with lamb, venison or other game meats.
2016 Tempranillo
Opening with black cherry and earthy clay, our 2016 Tempranillo then yields to more subtle aromas of cranberries and baking spice. Smooth and silky, with concentrated black cherry flavors and hints of spice, this medium-bodied wine entices without overwhelming. Layered with understated minerality and focused fruit flavors, this wine would pair beautifully with many dishes, but it would be best suited to foods with a smoky or spicy kick, such as chili or traditional Spanish tapas.
2017 Tempranillo
With prominent notes of fresh cranberries and cedar, our 2017 Tempranillo is bright and intense, yet very drinkable. This wine is medium bodied, with lively acidity complemented by subtle notes of dried cherries and cloves, rounded out by hints of espresso and dusty clay. Its food-friendly structure would lend itself well to many dishes, but a simple roast turkey or a vegetable stew would suit its complex flavors best.
Special Discount from $160 + Add Your Club Discount!