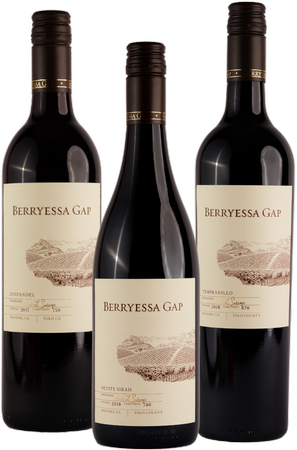 Three award-winning red wines to pair with favorite dishes or enjoy on their own! Perfect gift for someone who likes to try different varietals and appreciates elegant wine.
TASTING NOTES
2017 Zinfandel
Aromas of acacia and ripe raspberry mingle together to welcome the nose. A flash of ripe fruit kicks off the palate; followed by a cocoa powder, white spice, with hints of grapefruit and subtle white almonds wrap up a velvety finish well-balanced wine.
2018 Tempranillo
This wine draws you in with an abundance of delightful aromas - bursts of cherry, plum and hints of leather and vanilla. With a medium body and dry tannins that highlights the 2018 vintage and age-worthiness of this young Tempranillo, this wine will pair beautifully with your favorite Italian or Hispanic dishes. The silky and velvety finish delivers a highlight of oak and vanilla.
2018 Petite Sirah
This wine opens with prominent aromas of ripened blackberry and vanilla, earthy notes of wet clay. Fruit-forward with ripened plum expression and hints of dark bing cherry, this wine shows off its strong tannic structure with a finish that provides cocoa and espresso characteristics that linger long after leaving the palate. With Petite Sirah's trademark lively acidity and smooth finish, this bold wine would pair best with foods of equally bold flavors, such as short ribs or lamb tagine.