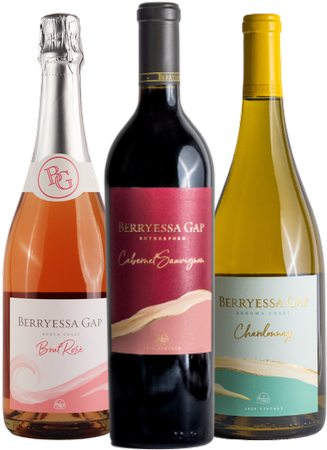 The Highway 128 Wine Collection™ is a series of wines created in partnership with respected growers and producers along this historic, scenic wine route. Each partnership is based on the world-class varietals grown and wines produced in the numerous, unique microclimates that exist along this scenic 140-mile wine route.
TASTING NOTES
NV Brut Rosé
This North Coast Brut Rosé opens with bright, fresh berries followed by hints of spices and cream, rounded out by a lovely effervescence and crisp, clean finish. This wine is versatile and food-friendly with a depth of flavor and bright acidity.

2019 Rutherford Cabernet Sauvignon
This Cabernet Sauvignon opens with beautiful aromas of black fruit and cassis layered upon notes of floral violet and sweet oak spices. On the palate, this full-bodied silky wine has flavors of blackberries, dark plum, espresso with hints of anise seed and textured with fine-grained tannins that build on the palate. This wine is incredibly elegant and balanced, with vibrant acidity, depth and freshness on the finish.

2020 Sonoma Coast Chardonnay
Aromas of vanilla complimented with subtle hints of lightly toasted hazelnut, baking spice and butter cream. Well-balanced without overwhelming the palate, it has prominent flavors of green pear, lemon curd and peach nectar with notes of ripe pineapple. Exquisitely nuanced with a smooth, round finish.