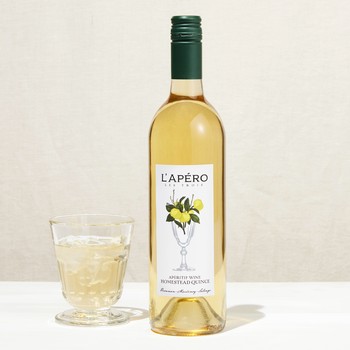 Homestead Quince Aperitif
TASTING NOTES
A mellow blend of Chardonnay and quince produces honey and chamomile aromas mixed with sweet baked apples. A smooth entry builds on the palate presenting mild yellow fruit flavors with complements of baked apple pie and apple tart with a bright honey finish. Berryessa Gap Vineyards' Estate Chardonnay as the wine base combined with the pectin in the quince give this aperitif a round texture and full-bodied mouthfeel.
FRUITS & BOTANICALS
Quince, a member of the Rose Family, along with apples, has been a staple fruit in Europe and the Middle East for centuries. The fruit was introduced into California by missionaries in the 1700s and became a standard homestead fruit.
FORTIFIER
Eau-de-Vie neutral brandy distilled from Berryessa Gap rosé
SERVING SUGGESTIONS
Serve chilled, on its own or with ice. To 3-ounces of apéritif, add 1 ounce of sparkling water or a splash of Blanc de Blanc sparkling wine, garnish with a twist of orange zest. Want to get fancy? Add a dash of bitters or Armagnac.
FOOD PAIRING SUGGESTIONS
Black Olive Tapenade, Mixed Nuts, Goat Cheese, Blue Cheese, Chinese Chicken Salad, Charcuterie, Pound Cake with Kumquat Syrup