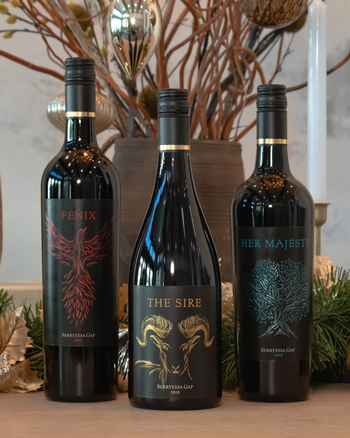 2019 Legends Collection
The Legends Wine Collections provides you with the perfect selection of wines at your table this holiday season. Showcasing our carefully curated selection of unique and extraordinary red blends, this collection is the ultimate expression of our winemaking philosophy: allow each varietal's characteristics to shine. These small-lot production wines are made from winemaker-selected barrels of our prized estate grapes, including Tempranillo, Petite Sirah, and Cabernet Sauvignon. Each blend is a distinct, evocative wine worthy of its legendary name.
2019 FÉNIX
This classic Rioja blend of Coble Ranch Tempranillo and coveted Rutherford Cabernet Sauvignon is a tribute to our Spanish heritage. Fénix - Spanish for phoenix - is named in honor of Tempranillo's early ripening, giving rise to a new harvest season.
90 POINTS - Wine Enthusiast "This big, full-bodied but smooth wine is based on Tempranillo, wrapping velvety tannins around very rip, luscious blackberry-jam and black-cherry flavors." - Jim Gordon
TASTING NOTES
This classic Rioja blend has vibrant aromas of black cherry and cranberries, complimented by earthy notes. Silky in texture, flavors of cranberry and cherry stand out as the fine, grained tannins build on the palate. This bold, age-worthy wine finishes with a savory red apple punch and subtle spice.
2019 THE SIRE
A winemaker-select blend of Petite Sirah, Syrah, Zinfandel and Peloursin, The Sire is named in honor of the prized, champion Suffolk breeding rams grazing the rocky hills that later became our Coble Ranch vineyard.
92 POINTS + EDITORS' CHOICE - Wine Enthusiast "All dark chocolate and blackberry jam, this rich and inviting Petite Sirah blend overflows with ripeness as moderate tannins brace deep fruit flavors and subtle oak spices lend tempting complexity. It's one of three excellent new blends from their hillside vineyards." - Jim Gordon
TASTING NOTES
This dark, intense wine has rich aromas of baking spice, fresh blackberry and bramble fruit. Round and luscious on the palate are bold flavors of mixed berry pie, cocoa and minerality. This well-balanced wine finishes with layers of dark fruit and dark cocoa.
2019 HER MAJESTY
Our wine-maker barrel-selected estate cuvée of Petite Sirah with Zinfandel, Tempranillo and Cabernet Sauvignon is named in honor of the beautiful California oaks in our vineyard, the most majestic is estimated to be 300 years old.
91 POINTS - Wine Enthusiast "A big structure of firm tannins and tangy acidity supports concentrated red and black cherries in his full-bodied, vibrant and appetizing wine. Best from 2024." - Jim Gordon
TASTING NOTES
This big, lush estate cuvée has balanced aromas of ripe fruit, cocoa and spice. Full-bodied with layered tannins, Her Majesty has a flavor profile of ripe blue fruits and a rich finish that entices the palate. The structure of this wine will allow for aging upwards of 20 years.
Special Discount from $162 + Add Your Club Discount!