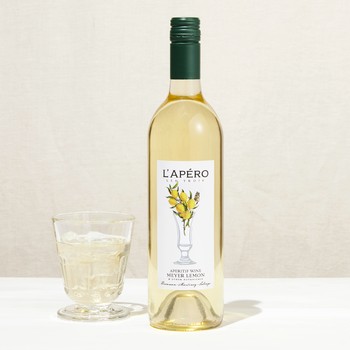 Meyer Lemon Aperitif
TASTING NOTES
This medium-bodied, yet light and delicate aperitif starts with clean, ripe Meyer lemon aromas that burst out of the glass. The intense fragrance of the fresh yellow zest that is used to create this aperitif combines with aromas of the fruit's white blossoms.
Refreshing, ripe Meyer lemon with rich vanilla come together to create a fruit-forward, lighter-style apéritif with just a hint of sweetness to balance the tart lemon and the rich Madagascar vanilla. Hints of citrus blossom, white flowers, lemon custard, fresh baked sugar cookies, vanilla cheesecake, lemon cookies round out this lovely aperitif. Berryessa Gap Vineyards' Estate Sauvignon Blanc is the wine base for this aperitif accentuating tropical fruit flavors.
FRUITS & BOTANICALS
Meyer Lemons, a California citrus specialty with an intense aroma, and thin skin
Madagascar Vanilla Beans
FORTIFIER
Eau-de-Vie neutral brandy distilled from Berryessa Gap rosé

SERVING SUGGESTIONS
Serve chilled, on its own or with ice. Or, to 3-ounces of apéritif, add1-ounce of sparkling water or a splash of Brut Rosé. Garnish with a sprig of fresh thyme. Want to get fancy? Add a dash of bitters.
FOOD PAIRING SUGGESTIONS
Salmon – Smoked, grilled, or poached. Goat cheese.
Roast Chicken, risotto, light pasta like cacio e pepe or clam. Green salads with toasted nuts such as walnuts or hazelnuts.