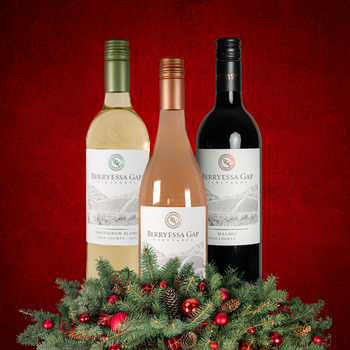 MIXED FAVORITES WINE CLUB - GIFTED 1-YEAR MEMBERSHIP
Gifting a Mixed Favorites Wine Club Membership from Berryessa Gap Vineyards promises a delightful journey through our exquisite Estate Collection. Twice a year, the recipient will receive a carefully curated selection of 3 wines featuring a white, red, and rosé wine—each a testament to the unique terroir and craftsmanship of our vineyard. From crisp whites to elegant reds and refreshing rosés, this membership offers a spectrum of flavors to suit every palate. It's an ongoing celebration of our commitment to quality winemaking, making it the perfect gift for those who appreciate the diverse and exceptional wines our estate has to offer.
The total value of this $150 gift is $200 and represents a 25% discount. In addition, Mixed Favorites' members will enjoy a 15% discount on any additional wine they purchase during the year.
WHITE GLOVE SERVICE FOR MEMBER SIGN-UP
A BGV staff member will contact you to complete the sign-up and forward the information to your "gifted" member!