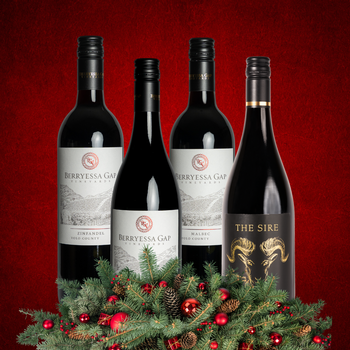 RED TRADITIONS WINE CLUB - GIFTED 1-YEAR MEMBERSHIP
The Red Traditions Wine Club Gift from Berryessa Gap Vineyard is a curated experience featuring four exceptional red wines sent two times during the year (Spring and Fall). Three red wines showcase our Estate Collection's craftsmanship. The fourth, a gem from the Legends Collection, epitomizes the vineyard's legacy. This gift is an exploration of flavors and a celebration of Berryessa Gap's artistry in red winemaking—a perfect choice for those who appreciate the timeless allure of exceptional red varietals.
The total value of this $250 gift is approximately $340 and represents a 25% discount. In addition, Red Traditions' members will enjoy a 15% discount on any additional wine they purchase during the year.
WHITE GLOVE SERVICE FOR MEMBER SIGN-UP
A BGV staff member will contact you to complete the sign-up and forward the information to your "gifted" member!