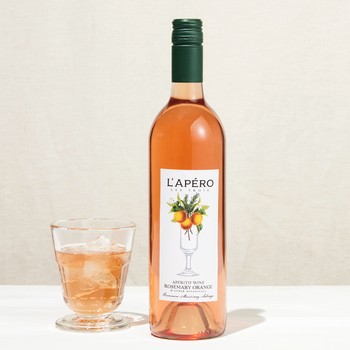 Rosemary Orange Aperitif
TASTING NOTES
Intense burst of pure orange from the potent zest used in production, the sweetness tempered by the resinous rosemary to create a balanced, slightly bitter aperitif. Aromas of on orange orchard in full bloom, candied fruit, slightly burnt sugar, garrigue of wild herbs. A hint of rosemary at the finish. Berryessa Gap Vineyards Estate Rosé of Tempranillo and Zinfandel is the wine base for this aperitif. The wine was produced using the saignée method and left on the lees to achieve aromatic complexity and body.

FRUITS & BOTANICALS
Navel oranges, California's historic sweet orange
Meyer Lemons, a California specialty citrus with an intense aroma and thin skin
Tuscan Rosemary, a sturdy, upright variety with powerful scent
FORTIFIER
Eau-de-Vie neutral brandy distilled from Berryessa Gap rosé
SERVING SUGGESTIONS
Serve chilled, on its own or with ice. To 3-ounces of aperitif, add a splash of Brut Rosé Sparkling wine, or soda water. Garnish with a sprig of fresh rosemary. Want to get fancy? Add a dash of bitters.
FOOD PAIRING SUGGESTIONS
Black Olive Tapenade, Mixed Nuts, Spicy sausages, like Merguez or Italian Hot, duck or pork rillettes, prosciutto, goat cheese, Ahi tuna